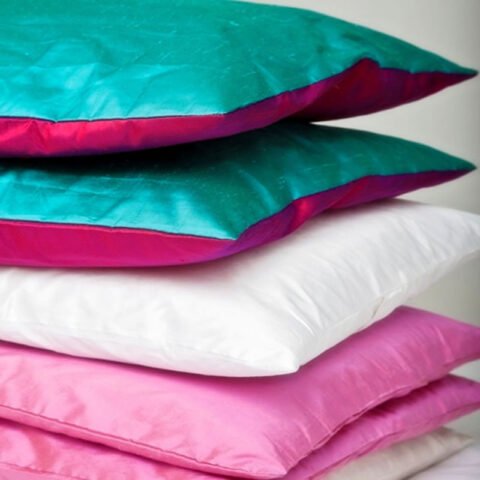 Dupioni Silk Cushion Covers
$20.00–$36.00
Details
How to measure and order
Additional information
Reviews(0)
Testimonials
Premium Dupioni or Shantung Silk Cushion Covers.
Quality: 100% Pure Silk.
Fabric Weight: 105 to 115 gms per meter.
Fabric Color: Choose from over 100 colors.
Price is for 1 Piece.
Simple Tips to Measure & Order
Width = Length of Curtain Track or Rod.
Length = Measurement from the Curtain Track or Rod till the floor or where you want your curtains to end.
---
Width for Plain Top Curtains: you should order at least 40% to 60% extra width for better drapes or double width for best results (example: If the curtain rod is 74", then you should order 51" X 2 Panels or 74" X 2 Panels for best results & proper fullness).
Width for Pleated Top Curtains: you should ass 4" to the curtain rod length & divide it in two (example: If the curtain rod is 74", then you should order 39" X 2 Panels, we will add the necessary width for the pleats & fullness).
Width for Special Top Curtains: you should order only double width (example: If the curtain rod is 74", then you should order 74" X 2 Panels).
---
Length for all curtains: if you want just normal curtains up to the floor, Please measure up to the floor & confirm the length.
If you want curtains to tail on the floor add 2" to 4" extra length.
And if you want the curtains to pool on the floor or with puddle or bulky bottom, you should add 12" to 14" extra length & order.
---
Order

Mention Color.
Mention exact width for 1 curtain in inches.
Mention exact length for 1 curtain in inches.
Select Lining of your choice.
Select Top of your choice.
Add number of curtains.
And CheckOut
Additional information
| | |
| --- | --- |
| Cushion Cover Size | 10" X 10", 12" X 12", 14" X 14", 16" X 16", 18" X 18", 20" X 20", 22" X 22", 24" X 24", 26" X 26" |
Only logged in customers who have purchased this product may write a review.
YES! The order is delivered, and the draperies are BEAUTIFUL!!!! WHAT QUALITY!!!! THANK YOU SO MUCH! Even though you are all the way in India while I am in Texas USA, I have been corresponding with you for such a long time I feel like we should be friends! Thank you for your wonderful product!
Susie Koop
TX - USA. on March 22, 2013
I received the panels yesterday and they are perfect! Thank you again!
Lauren Guiliano
NJ - USA on March 9, 2013
I had received the package, I can't believe how perfect are!!! Was a great pleasure to do business with you.Now I'm sorry I didn't let you sew the curtains, I'm sure they will be perfect...but I was afraid:). You are a professional! Great one! I will strong you recommend you to other customers. Best regards!
Gemile Susli
SARASOTA, FL - USA on February 26, 2013
Wanted to let you know I received the curtains and they're beautiful! Thank you very much (also for the ties)!
Cristina Thompson
new canaan, CT - USA on February 25, 2013
I would like to tell you how thrilled I am with the beautiful curtains.They look lovely,everyone has also commented. Also thank you for your help & patience for great service & product. Happy New Year, talk again soon for our next order.
Michael Radburn
NSW, Australia. on December 26, 2012
Thankyou for your christmas greetings . Best wishes for Christmas and the new Year to you and your staff.The curtains I ordered from you several years ago are looking good and greatly admired by friends kind regards from
Mary Denise Sloan
USA on December 25, 2012
Thank you again for such beautiful products you make for people! I am absolutely in love with your curtains!
Inga Zorina
Moscow Russia. on December 6, 2012
I received my first shipment & they are beautiful! Thank-you for the great service too, I received them in about 7 days.
Marisa Grossi
ON - Canada. on December 3, 2012
Many thanks for sending over my fabulous curtains so speedily. They are wonderful, thanks so much!.
Sue Gunn
Dublin - Ireland on December 2, 2012
I would just like to thank you for my curtains, they took 12 days to arrive which is amazing for custom made curtains. I love them!
Kylie Jarrett
Dudley Park Western Australia on November 22, 2012